IMPORTANT NOTE: Majority of Universities, Colleges, and High Schools use PDF Files in their virtual learning environment.
After you order this e-Publication, you will receive an instant email that will contain a link (PDF File and/or AUDIO) for you to download your ePublication Purchased. Two downloads will be authorized that will allow you to access these e-files on two different devices, within the first seven days of purchase. SAVE files to hard drive on device(s). You DO NOT NEED an electronic reading device (Kindle, Nook, etc.) to view any of these e-Publications that are available on this site via download.
Description
On-Demand Career Success Program will educate you on the following:
Learn how to successfully execute a new executive employment search from start to finish.
Learn the difference between how a lower salaried employee seeks new employment vs. an executive candidate seeking a compensation packages at the $100,000+ level.
Learn how to successfully executive a "Direct Mail" to employers.
Learn how to successfully and effectively create and build a preparation platform to ensure success during your executive employment search.
Learn how to create impactful "Executive Résumés" that become the candidate's most important marketing document.
Creating impactful "Cover Letters" that get "Noticed" and leads to securing "Executive Interviews."
The core profiles of the "Art of Interviewing" at the "Executive Level" is highlighted in great detail and will prepare the Executive Candidate how to interview successfully.
Post "Executive Interview Follow-Up."
How to successfully manage Professional References.
How to manage and work with Executive Recruiters.
Learn how to effectively "Negotiate Salary" with new Employers.
Learn how to manage and create "candidate separation" from other Executive Candidates seeking the same employment.
How to execute a successful Executive "New Employment Honeymoon"
And Much, Much More!
Career Publications Include 3 Products:
All the ePublications that are included with this on-demand career program will be accessible via download link that will be included in your instant email receipt after your purchase from Proactive Publishing.
eBook – Have Résumé Will Travel at $100,000+
eJournal – The Hiring Process
DVD/MP3 Audio – Have Resume Will Travel at $100,000+
Book Description:
Have Résumé Will Travel at $100,000+ – A Veteran insider's Guide to Executive Job-Changing
Veteran Corporate Candidate, Patrick Franzen shares his wisdom and knowledge relative to the strategies and actions plans required to ensure success when seeking new employment, at $100,000+ per year compensational package. This book has been used by hundreds of successful executive candidates that resulted in them securing new, six-figure employment positions. Author Patrick Franzen has secured over 10-Executive Employment Offers over a four-decade long period, therefore, he is the career source you need to seek out. Second edition of this publication was published in 2021.
Have Résumé Will Travel At $100,000+    (2nd Edition – MMXXI)
A Veteran Insider's Guide to Executive Job-Changing
The 2nd Edition of this publication was updated and revised in the year 2021, post COVID-19. This book will successfully educate the Reader relative to the dynamics of the ever changing, current executive employment arena, and how to survive and thrive in this competitive environment towards securing a six-figure compensational package. The author is an extremely reliable career resource to utilize towards your personal executive career success goals, and your next executive employment search. The author is all about results. He has secured over 10 Executive Corporate employment offers throughout his career, spanning five-decades. That aforementioned statement is a testament to the author's knowledge and experience platform in this very specialized field.   Additionally, the author has been a hiring manager for over 37 years at the corporate level. The author has a well-established and documented career success platform in the specialized field of seeking and securing new executive, six-figure employment, consistently and successfully over the decades.
Chapters:               24
Page Count:         249
Word Count:    73,181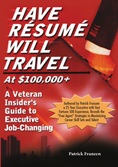 Employment Journal:
The Hiring Process – Learn How to Secure New Employment
This Employment Journal is a comprehensive publication totally focused on all aspects of the hiring process. It also includes Q's & A's from actual candidates who were seeking advice on what are the correct career action plans required to ensure success and becoming the #1 candidate who secures the employment offer.
Employment Journal Features
Ten steps to getting hired.
Understanding the "behind the scenes" workload of hiring managers and hiring companies.
Learn how you as a candidate can make the hiring decision easy for the hiring manger.
Maximize your knowledge base and become better prepared than other competing candidates seeking the same position.
And much, much, more…
Have Résumé Will Travel at $100,000+ DVD/MP3 Audio
Recording of a 1.3 HR "LIVE" Radio Interview of Patrick Franzen. This powerful and inspiring career audio is a great career resource and tool for six-figure executives who seek out those hard to secure executive employment offers. Earning over $100,000.00 per year is a milestone and career goal many candidates pursue. The entire hiring process is much different than hourly employees, or candidates whose career annual earnings are much less than $100,000+. Learn the proven strategies from start to finish towards securing a compensation package in the six figures.

Excellent ROI:   Your purchase of this on-demand career success program is a great investment in your future Career. If you can implement just a few of the hundreds of viable and real-world career directions highlighted in this on-demand career success program, you will have enhanced your career success. Author Patrick Franzen feels that if you can source a more viable and experienced/real-world career publications and DVD/MP3 Career Audio created by any other author within the employment arena than this author, Buy It!
Dear Customer: After your order is processed, you will receive an email receipt and a link for you to download all three career products that are included.