Career Success 360
Franchise Opportunities
"Your Path to Career Success"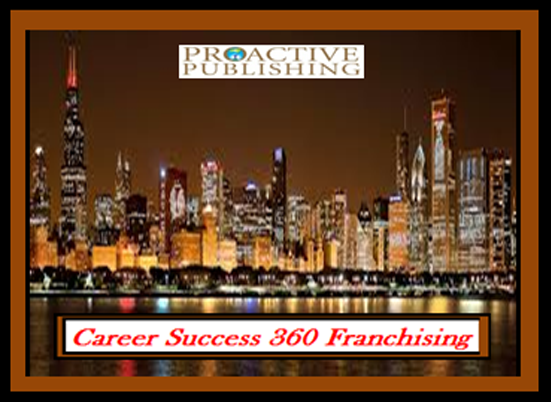 Starting in January, 2022, Proactive Publishing will be rolling out a strategic business expansion via the International Career Success 360 Franchise initiative that will encompass four global markets: North America, Western Europe, Australia, and Japan. Proactive Publishing, as a franchisor will sell licenses agreements that will include know-how, procedures, intellectual property, use of its business model, brand, and rights to sell it branded publications and services to all franchisees that are approved.
What is a Career Success 360 Franchise?
A complete "turn-key" franchise system specifically created and designed to ensure short and long-term success for each franchisee owner.
Proven business model successful in the North American Market.
Career Success 360 Franchise is a business model that is built on the main platform and sales channel of Private and Public High Schools, Private and Public Colleges, Two & Four Universities and Colleges, Corporate Human Resource Departments, Sponsored Career/Employment Work Shops, and retail:
On-Site Career Success Seminars
Employment Search Workshops
Career Management Presentations
Career Book Sales / Career Audios Sales / Career Videos
Personal Consulting
College and University Books Stores
Tech Schools / 2 year Colleges
Corporate "Out-Placement" Professional Services
Corporate National Chain Book Stores within Protected Market.
Franchisee Tools and Resources included in Turn-Key Business Model
Protected, exclusive markets.
Each franchisee will participate in a week-long training program.
Access to over 40 Career Success Publications, Audios, Videos, and Sales Brochures (Both Hard Copy and Digital)
Access to the vast Proactive Publishing's Library of Career Success (Power Point) Presentations, each representing a detail (Power-Point) decks that anyone can use to present to a large and/or small audiences.
All Sales materials and marketing support is included in the franchisee agreement.
Updated Power Point Presentations (All Career Programs) will be supplied ever six months to all franchisees to use within their protected markets.
Access to Proactive Publishing's vast, current Library of contact information for Schools and Universities across North America, and internationally. Additionally, these contacts lists are updated every year.
Each franchisee will have their own personal [Full One-Page Website domain) Page] that will be included on the main domain CareerSuccess360.com platform highlighting their protected market. For example: CareerSuccess360.com/Milwaukee CareerSuccess360.com/Portland
Each franchisee will have access to email accounts (MS outlook) within the CareerSuccess360.com platform.
Ongoing Support System from Proactive Publishing's Franchise Management Team to Ensure Success with each and every Franchisee.
First six months of the new franchisee will have weekly conference calls conducted with Patrick Franzen to ensure all franchisees achieve success.
Quarterly Newsletters sent to all Franchisees.
Annual Franchise Meetings held in Chicago for all franchisees. First schedule meeting is November, 2022 in Rosemont, IL. (Proactive Publishing will sponsor all travel expenses, meals, and lodging for this two day event)
Ideal Franchise Owner Profile
Prior Corporate Management Experience / Prior Corporate Sales Experience.
Prior Public Speaking Experience ( Corporate Employment Experience Ideal)
Professionally Competent and able to execute a proven business model.
Franchisee must have initiative and motivation to become successful within franchise system.
Strong, professional image.
Excellent Communicational skills (Both written and verbal)
Franchise Markets
All franchises will have protected markets. Relative to the twenty Top Markets in North America: New York, Philadelphia, Los Angeles, Atlanta, Chicago, Boston, Portland, Seattle, Dallas, Houston, San Antonio, San Francisco, Denver, MLPS, Kansas City, St. Louis, Miami, Cincinnati, SoCal/NorCal, & Charlotte will have multiple protected markets. For example, in the Chicagoland area, franchisees will be sold for protected markets within Chicago North, Chicago West, and Chicago South.
International markets will consist of the following: Tokyo, Osaka, and Kobe Japan. Dublin Ireland, London England, Madrid Spain, and Paris France. Canada markets will consist of Vancouver British Columbia, Ottawa, Montreal and Quebec. The Australia markets will consist of Sydney, Queensland, and Brisbane.
Smaller North American markets like the state of Wisconsin will have three protected markets: Madison, Milwaukee, and the Fox River Valley.
Franchises will only be sold to franchisees that are approved by Proactive Publishing Franchise Team. The key objective is to ensure that all Franchise Owners are extremely successful and they meet the high criteria required to secure a franchise.
Franchise Cost/License Royalties 
$10,000 / One-Time Franchise Fee
$2,500 / Annual Maintenance Fee (This includes funding for website maintenance, website hosting, online marketing support, ongoing customer service, access to Proactive Publishing Career Library (All Publications) Marketing support, among a host of other functional resources and tools to ensure success.
5% / (Gross) of annual Book/Audio/Video Sales sold in all protected markets.
Each Franchise Marketing Support
Each protected Franchise market will have a $2,500 annual marketing budgeted allocated towards building franchise equity in each respective area.
 Annual Corporate Marketing Allocation per Franchise's protected market
Online Marketing:         $2,500
Direct Marketing:          $   500
Regional Marketing:      $1,000
Franchisee Income Potential
Each protected market for Career Success 360 Franchises can generate between [$350,000 - $1.3 Million] per year from revenue generated by Career Success Seminars, Hosting Employment Seminars, Career Success Workshops, Corporate Career Consulting, Corporate Outplacement Services, and on all Book, Audio, Video, and Employment Journal/Reports sales. Target Franchise Profit margin is (65% - 78%) of total revenue projections, per fiscal year.
Key to success is not how large of a protected market each franchisee owns, it is the skill set, talent, career experience, and self-motivation that each Franchisee demonstrates.
This turn-key business model is extremely profitable vs. the time allocated by each franchisee. This is a mid-to-high six-figure income Franchise business model for all Franchisees.
Next Steps:
If interested in being contacted in November of 2021 relative to being sent the complete franchise system, please send your interest via email to Patrick@CareerSuccess360.com. Franchise Applications will be accepted starting in November of 2021. Proactive Publishing will contact you in November. Please identify your requested market.
Once complete Franchise System Brochures, Contracts, Franchise Inclusions, and other Set-Up Franchise Procedures are finalized in November, you will be contacted by Proactive Publishing.