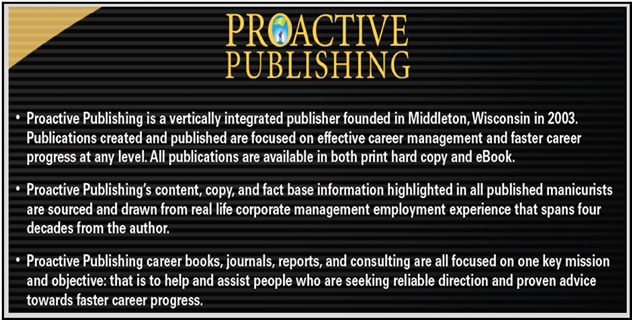 Proactive Publishing
Career Books
The entire library of Career publications are created with viable and real-world career advice and content that can assist any level employee and/or candidate achieve personal short and long-term career success. Additionally, "knowledge is power" relative to any level employee who seeks to achieve career success over their decades long employment career. Proactive Publishing's career books have all major career categories covered, in great detail, updated annually towards empowering the reader how to "Effectively Manage" their career towards becoming a long-term accomplished employee and one that achieves "Career Success."
Proactive Publishing
Employment Journals
The Career Employment Journals are a collection of writings created by Career Author Patrick Franzen that encompasses close to 40-Years of Corporate Management experience. During the past four-decades, the author has logged and recorded his, and others career experiences that were witnessed throughout his corporate career, resulting in the creation of this vast collection of real-world career journals that can assist and educate any level candidate towards them achieving career success on their terms. Acquiring career wisdom and how employees can incorporate that "knowledge" towards their own personal career success is extremely empowering.
Proactive Publishing
Career Audio DVD's
The Career Audio DVDs are a collection of both Radio and Live Recorded Presentations delivered by Corporate Manager, Patrick Franzen. Patrick has created a very diverse collection of career audios to assist and educate any level employee or candidate towards becoming more effective and results oriented within their personal career. Additionally, Patrick's commentary within all his audios are "spot on" and deliver the verbal inspirational motivation to get the listener excited about achieving career success. Career success just does not happen without a solid and efficient "Path to Career Success."
On-Demand
Career Success Programs
Proactive Publishing
ON-DEMAND
Career Success Programs
All of the On-Demand Career Success Programs are specifically created for both new employment candidates and employees who seek a "Solution" towards achieving meaningful and viable career success. Acquiring "Incremental" career knowledge and wisdom towards assisting you achieve career success is paramount. Having the correct resources and tools from a reliable career source is vital. That is why the On-Demand Career Success Downloadable Bundle [Publications – Employment Journal – DVD Career Audio] is an excellent investment in your career. "Your Path To Career Success Starts Here!"
Proactive Publishing
Retail Display Units
Proactive Publishing's Retail Display Units have enjoyed excellent success during the past ten years. They have been displayed in both Retail Stores, University Bookstores, and Specialty Stores with fast sell through. Each one of the Floor Displays contain either a 12 count or 18 count of Books. The Retail Display Units are also FREE with any purchase of either 12 or 18 count books for each respective Book Title. 4 Weeks Lead Time is Required. These Display Units are self-contained within the Book Order for ease of erection once the Display Unit arrives at Retail. All Retail Display Units are shipped via UPS 2 Day.